Perfect Paradise: Islands
The Bahamas is made up of a chain of 700 islands and 2,000 cays (pronounced KEYS) that are geographically known as the Bahama Islands. Located off the southeastern coast of Florida, the Bahamas are the northeastern boundary of the Caribbean Sea against the North Atlantic Ocean.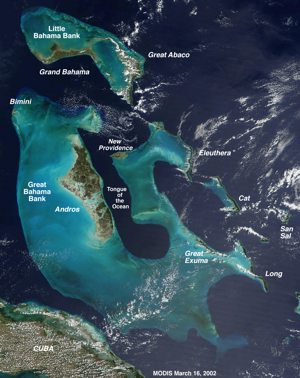 The main social, cultural, economic, and political island of the Bahamas is New Providence, on which sits the capital city of Nassau. Other major islands include Abaco, Grand Bahama, Eleuthera, Inagua, Long Island, and Andros. Although there are so many islands, only about 40 are inhabited, including so-called private islands where all property is owned by a single landholder.
The islands of the Bahamas are typically divided into two categories: New Providence, which is the population center, and the Out Islands (or Family Islands), which are the more remote and less populated islands. Residents of the Out Islands, with the exception of Grand Bahama and parts of Abaco, typically speak Bahamian Dialect and live as farmers or fishers.