Perfect Paradise: Culture: Festivals
Bahamians know how to celebrate better than just about everyone, and all festivals are highly participatory – there's no such thing as just being a "specator" in the Bahamas. Below, some of the most important festivals are described:
Junkanoo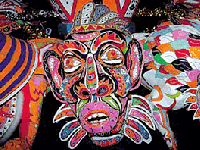 This is the granddaddy of all Bahamian festivals, and arguably the greatest in all of the Caribbean. Held on Boxing Day, starting only two hours after the Christmas midnight mass, as well as New Year's Day, Junkanoo is like a Bahamian version of Carnival, complete with lavish floats, decorations, masked entertainers, and hypnotic Junkanoo band beats that can be heard across the islands. With roots as far back as Emancipation, Junkanoo simply continues to grow each year, with the winning floats each year routinely costing their groups as much as $100,000 USD to put together.
Visit: The Official Junkanoo Website


Independence Day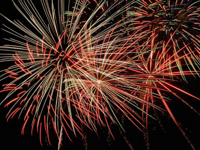 Celebrated every July 10th, Independence Day marks the anniversary of the Bahamas receiving its full independence from the United Kingdom as it became its own country. As in other countries, Independence Day in the Bahamas is marked with fireworks extravaganzas, public festivals, and other offerings. The greatest celebrations are held, of course, in Nassau, the national capital and largest city, on the island of New Providence. Right across the Paradise Island Bridge from Nassau is the Atlantis resort, which has its own fireworks festivals to celebrate both the Bahamian and American Independence Days, since they both occur within one week from each other (the American Independence Day is July 4).
Visit: Official Website of the Bahamas


Emancipation Day / Fox Hill Day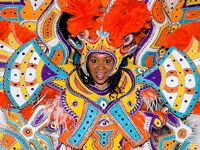 Two festivals in August help to commemorate the end of one of the worst institutions in the history of the British Empire. On the first Monday in August, Bahamians celebrate the emancipation of slavery through a series of neighborhood festivals across the islands. Then, on the second Tuesday of August, Fox Hill Day commemorates the anniversary of the abolition with a major festival in the Fox Hill neighborhood of New Providence, outside of Nassau. As the second-largest festival in the Bahamas, Fox Hill Day has many of the same elements of its larger peer, with Junkanoo dancers and bands on hand every year to provide some of the entertainment. These two festivals combine to serve as times of remembrance for the slaves of the past, as well as celebration of life as free people in a vibrant land.